Secretary - Betsy Baker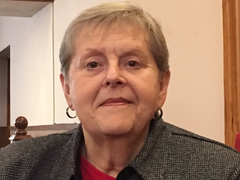 Raised in Alplaus, NY (near Schenectady), Betsy came to Potsdam in 1963 as a student at SUNY Potsdam's Crane School of Music from which she graduated in 1967. During her college years she began to worship at Potsdam UMC and sing in its choir. Nearly fifty years later, she is still worshipping and singing here.
Betsy became our church secretary in late 2007 after years of working in the newspaper business, running her own editing business, and serving as Governor Mario Cuomo's Regional Representative for the state's six most northern counties.
She has two children, a daughter in Boston and a son in San Antonio. She is a past president of the Potsdam Lions Club and sings as a part of the Community Chorus.
Her office hours are
Monday 9:00 AM - 12:00PM
Tuesday, Wednesday and Thursday 9:00AM - 12:00PM
Email Betsy Baker
Choir Director - Warren A. Potter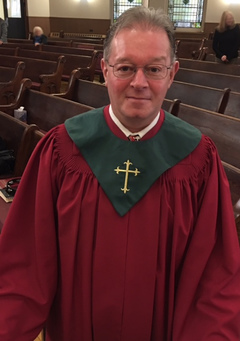 Originally from Bombay, NY, Warren has been a part of the Potsdam community and of our congregation since he began his studies at SUNY Potsdam's Crane School of Music. After graduation, he taught music at various area schools, directed several musicals, and has been a popular sports broadcaster.
In 2007, after years of singing in both the Chancel Choir and the Men's Choir, Warren became the director of both.
He lives with his wife Caroline and their two children, Carrie Ann and Julian.
Organists/keyboardist - Debby Nikkari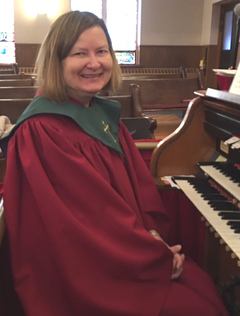 Debby and others share the role of accompanying both the choir and the congregation. Debby is a graduate of Crane School of Music and teaches music at Lawrence Avenue Elementary School.
Church Caretaker - Ron Kaiser