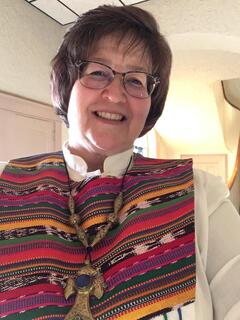 Before she became a Licensed Local Pastor - in 2009, Pastor Heidi worked within a wide variety of employment opportunities. Each has been a reflection of either her personal artistic talent - mixed media and graphic arts, marketing, pattern design and implementation, photography, and writing - or an expression of an innate sense of social justice - advocate for troubled teens and their families, battered women and children, and women's health care. All of these opportunities were areas where she felt a strong sense of personal ministry and outreach and avenues for God's equipping grace to work within her life.
It then is no surprise that Pastor Heidi's personal ministry vision is justice oriented and summed up by just two words: EVERYBODY FED. Approaching ministry holistically to address the needs of both the body AND the soul provides a framework that addresses outreach, evangelism, fellowship and social justice. She is passionate about gifted, empowered and equipped lay leadership within our local churches and annual conference. As a Licensed Local Pastor, she understands the personal ministry of laity within the church and strives to instill a sense of ownership of goals carried out to fulfill the mission and ministry of the church. Toward that end, she has actively encouraged congregations to develop a shared understanding of their mission and ministry, name it and claim it with concise wording so that it becomes an intrinsic part of the church culture and a tool by which to measure the fruitfulness of any mission or ministry undertaken.
Pastor Heidi is by nature an encourager and has a strong sense of compassion and empathy. She is good at "loving people where they're at." She is willing to be in relationship with everyone, not just those involved in the life of the congregations she serves. She consistently reaches out without judgment. With no exceptions she believes ALL MEANS ALL, Love Wins, and each member of humanity IS a beloved child of God. She wants people to know that she SEES them!