Sunday School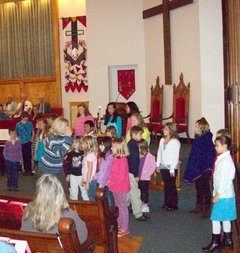 Sunday School takes place during the regular Sunday worship service. Children begin church in the sanctuary with their families. Immediately following Children's Moment students proceed downstairs for circle time. Here they learn songs, participate in offering and recite the Lord's Prayer.
When circle time has ended the children go to their respective Sunday School classes. These are divided by grade level (Pk-k, 1st- 2nd, 3rd- 4th, 5th- 6th and 7th-12th). Here they learn Bible lessons, have discussions and participate in crafts and projects. When communion is served the children return to the worship service to partake.
Contact the church secretary Betsy Baker for more information.
Nursery
The Nursery is staffed and available to all infants and toddlers who find it difficult to sit through a church service. It is located downstairs next to the Sunday School area. Parents are welcome to stay and listen to the service through a speaker or they can return to the worship service.
Contact the church secretary Betsy Baker for more information.
Confirmation Classes
Confirmation classes are offered every other year to students who are age 12 by the spring of that year. Classes cover such topics as the meaning of Christianity, scripture familiarity, responsibilities of membership, Methodism and Methodist history.
Junior Church
Junior Church is offered during the summer months. As with Sunday School, students attend the church service and proceed downstairs following the Children's Moment. Lessons and activities are done within a "One Room School House" setting.
Vacation Bible School
For the last several years Vacation Bible School has been held in conjunction with the Presbyterian Church in Potsdam. It has usually been held the 2nd week in August. Children of all denominations are welcome to attend this fun and faith-filled week.
Sacred Dance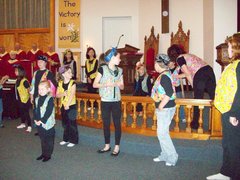 Sacred dance is a way to engage the body, mind and spirit in worship. If your child enjoys experiencing music through movement this may be the group for them. Sacred Dance rehearses on Mondays from 4:30-5:00PM. It is open to all youth ages 5-18. The Sacred dance group performs several times throughout the year.
Youth Group
Youth Group is open to students in grades 5 and up. It is a wonderful opportunity to have fun with others who share the same Christian values. Students participate in a variety of activities including talent shows, fun nights, mission work, beach parties, and a variety of other activities.