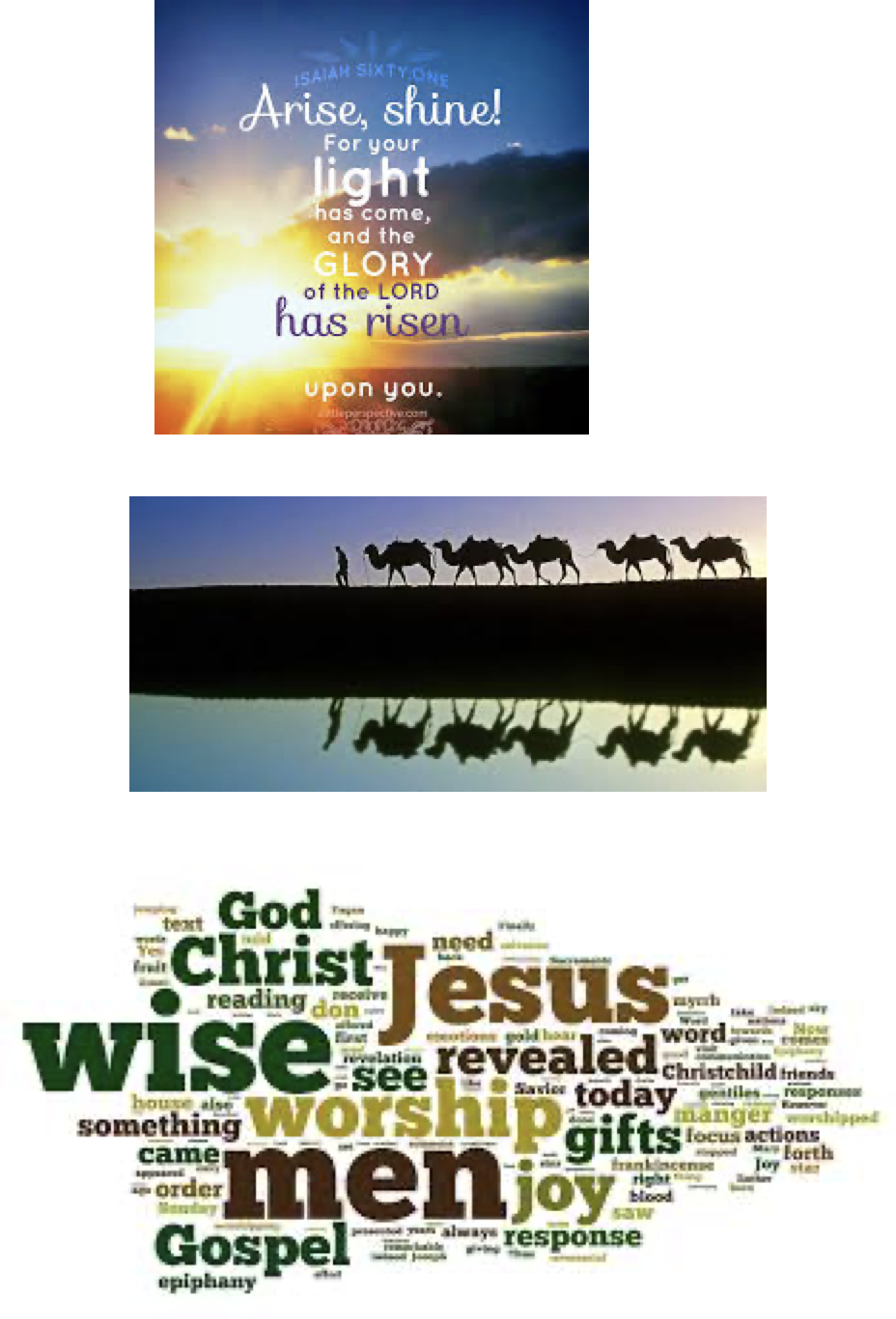 Note: Please use the browser 'BACK' button to return to this page after clicking on the links below
Prelude: Go Tell it on the Mountain, played by Brian Stokes Mitchell
Eternal God, gather us in spirit and truth to see Your glory rise in our hearts and souls. We journey in faith, bringing our variety of gifts to present to Your chosen Messiah, Jesus. The journey through the past year was arduous and unsettling, and yet we begin a new year of hope, trusting in Your care and love for us. May our hearts see Your Glory unfurled before us, like the Magi saw the star in the east. May it guide us to new understanding of Your ways and Your faithfulness to us so we may worship with true hearts.
During this time of worship, center our hearts, our souls, and our minds on Your Presence with us as we lift to you the prayers of our hearts. We know You promise to hear our prayers, always, and with confidence,
We come to pray for Our Church, for it's leaders and congregation Our world and our country our loved ones - keep them: keep them in health, in safety, in comfort, in Your care
Keep us, also and send forth Your Holy Spirit of truth, of comfort, and of power. We pray for any among us who feel constrained, or emotionally distressed by our time and era and for any who need to know Your love for them in this hurting world. We also lift to You those who need comfort as they mourn their loved ones. Jesus promised to send the Holy Spirit, The comforter, who would remind us of Your promises that Nothing in life, or in Death, things present, nor things to come, nor angel or demons within our lives, nor anything in all of creation will ever be able to separate us from Your love in Jesus the Christ, our Lord.
The Lord's Prayer
Opening Hymn: No. 254 We Three Kings
Call to Worship: Psalm 72: 1-7 adapted]
Pastor: Give the king your justice, O God, and Your righteousness to a king's son.
People: May he judge your with righteousness, and Your poor with justice.
Pastor: May the mountains yield prosperity for the People, and the hills, in righteousness.
People: May he defend the cause of the poor of the People, give deliverance to the needy, and crush the oppressor.
Pastor: May he live while the sun endures, and as long as the moon, throughout all generations.
People: May he be like rain that falls on the mown grass, like showers that water the earth.
Pastor: In his days may righteousness flourish and peace abound, until the moon is no more.
People: Yes, may righteousness flourish and peace abound, until the moon is no more.
Choral Anthem: McConnell: Alleluia! Sing a Song for the King
God, Creator of the universe, You come into our lives in so many ways, some we recognize, and some elude us for so many reasons. Your way of coming into our journey of faith always makes us search for Your presence, and ask questions that may unsettle other persons. Thank you for being active in our world, active in our lives, and active to fulfill Your promises to us. Send forth Your Holy Spirit to enlighten our hearts to search for and worship Jesus, Your chosen Messiah and King. We have waited long to see Your glory within our time and era, open our eyes to find the truth of Your Glory in our lives.
Hymn: No. 249 There's a Song in the Air
Gospel Reading and message:
Gospel Reading: Matthew 2: 1-12
Closing Hymn: No. 251 Go, Tell It on the Mountain
Pastor: We live in joy knowing that God is faithful.
People: Each of us is on a journey of faith.
Pastor: God willing leads us to God's truths in Jesus, God's Messiah.
People: God fulfilled the ancient prophecies of a Savior, One who would redeem those without a helper.
Pastor: God's love for us is forever;
People: and God's faithfulness teaches us God's ways.
Pastor: May we travel with the Magi, to see where our search for God leads us;
People: Let us journey with faith in God's amazing love for us.
Postlude: D'Aquin: Swiss Noel, played by Paul Butt