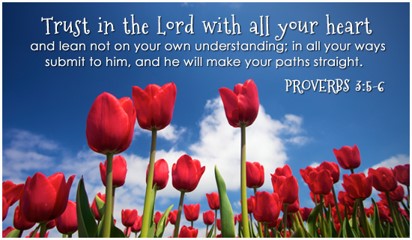 Note: Please use the browser 'BACK' button to return to this page after clicking on the links below
Prelude: What A Friend We Have in Jesus
Pastoral Prayer
Almighty and gracious Lord, You teach us through Your Word that Your abiding presence supplies us what we need for our journey. Thank you for constantly reminding us to trust in Your care and Your provisions within our lives. Send us Your Holy Spirit to guide us to understand the grace and care You provide for all Your people. Help us to praise You for Your loving care for us as we enter into this time of worship.
During this time of worship, center our hearts, our souls, and our minds on Your Presence with us as we lift to you the prayers of our hearts. We know You promise to hear our prayers, always, and with confidence,
We come to pray for Our Church, for it's leaders and congregation Our world and our country our loved ones - keep them: keep them in health, in safety, in comfort, in Your care Keep us, also and send forth Your Holy Spirit of truth, of comfort, and of power. We pray for any among us who feel constrained, or emotionally distressed by our time and era and for any who need to know Your love for them in this hurting world. We also lift to You those who need comfort as they mourn their loved ones. Jesus promised to send the Holy Spirit, The comforter, who would remind us of Your promises that Nothing in life, or in Death, things present, nor things to come, nor angel or demons within our lives, nor anything in all of creation will ever be able to separate us from Your love in Jesus the Christ, our Lord.
The Lord's Prayer
Opening Hymn: No. 581 Lord, Whose Love Through Humble Service
Call to Worship: Psalm 105 [adapted]
Pastor: Give thanks to the Lord;
People: let us call upon God's Name.
Pastor: Make God's deeds known to all people!
People: Let us sing praises to God.
Pastor: Dwell on all God's wondrous works!
People: Let our hearts rejoice of all that God has done for us.
Pastor: Pursue the Lord and God's strength;
People: Seek God's face always.
Choral Anthem: Mendelssohn: How Lovely Are The Messengers
Living God, forgive us when we grumble and doubt Your strength and bountiful love for us. Send Your Holy Spirit to assure us of Your constant presence with us that supplies us with food and sustenance within our lives. Renew our hearts to learn Your ways of grace and love for all persons so that our lives reflect Your grace and our hearts dwell in Your peace. Guide our hearts to understand Your ways and to embrace Your love for us and for others who surround us. Show us Your amazing grace so we never doubt that You intend to provide for us, and for others, our daily needs. Help us to embrace the concept of "...give us this day our daily bread..." that You provide for us. Protect us from pursuing the world's understanding of competition and getting ahead of others. Help our hearts learn the peace of trusting in Your care all the days of our lives, so that we sing Your praises from the depth of our souls.
Hymn: No. 337 Only Trust Him
Gospel Reading and message Exodus 16: 2-15, Matthew 20: 1-16, God's vision for God's people: Trusting God to "...give us this day our daily bread..."
Closing Hymn: No. 731 Glorious Things of Thee Are Spoken
Benediction: Psalm 105 [adapted]
Pastor: Trust in the promises of God.
People: We will give thanks to the Lord our maker.
Pastor: Trust in God's constant presence.
People: We will call upon God's Holy name.
Pastor: Trust in God's providing love for us.
People: We will make God's deeds known to all people.
Pastor: Trust that God will give you strength and understanding.
People: We pursue the Lord and God's Strength.
Pastor: Seek God's face always.
People: We will sing praises to the Lord and remember the wondrous works God has done.
Postlude: Toccata from Fifth Organ Symphony