Reading for Good Friday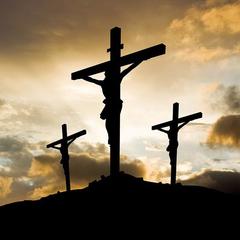 It was now about the sixth hour, and darkness came over the whole land until the ninth hour, for the sun stopped shining. And the curtain of the temple was torn in two. Jesus called out with a loud voice, "Father into your hands I commit my spirit." When he had said this, he breathed his last breath.
Luke 23:44-46
The death of Jesus thousands of years ago for most of us is difficult to fathom. That God sent his only son to die for us, for me, for the unworthy? It's the word unworthy that always bothers me. For me the word "unworthy" reinforces my insecurities and feelings of self-doubt. The word leaves me feeling that no matter what I do, or how much I believe, I will always be "unworthy." It instills in me a feeling of hopelessness an attitude of "why bother?"
You see, I choose to believe that God saw that there could still be good amongst the "unworthy." That by sending his son to teach about life and light there still may be hope for his world. Jesus died for me because God thought I was "worthy". That through his death the light and life of Jesus becomes a part of who I am, a part of my very soul. May the light and life of Jesus radiate from our very souls for the world to see, so that all may know that it is God who is worthy of our praise and thanksgiving.
Song suggestion -- Why? By Michael Card
~ Kathy Demo
Reading for Holy Saturday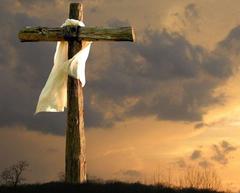 The words of a familiar hymn say: "Jesus walked this lonesome valley; he had to walk it by himself. Oh, nobody else could walk it for him; he had to walk it by himself. We must walk this lonesome valley; we have to walk it by ourselves. Oh, nobody else can walk it for us; we have to walk it by ourselves."
On the day before Easter, the disciples and all of Jesus' friends and family were afraid and hiding behind closed doors. They felt so alone with their grief over their lord's death. On this Saturday, April 11, 2020, we mourn the suffering and death of Jesus on the cross. We also find ourselves hiding behind closed doors from the uncertainty and danger of the corona virus.
In our fear and aloneness, we can take comfort that we are not alone. We can make the effort to call and cheer each other with words of encouragement. We can thank those who are helping to provide us with food and who stand ready to assist if we become ill. We can use this time in prayer and contemplation to thank God for the many gifts we have been given and for the comfort of having each other. Yes, there will be times when we have to walk it by ourselves. Jesus did this too. But often, if we look around us, we can find someone else who is sharing the same journey. We can invite them to join us. We don't always have to walk it by ourselves.
Song Suggestion - Jesus Walked This Lonesome Valley
~ Deb Nikkari
Reading for Easter Sunday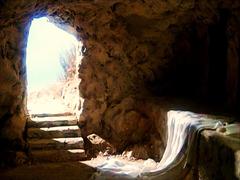 My reading of the Good Friday mediation led me to this meditation for Easter Sunday.
We have faith in the ideas expressed in the Book of Genesis, God comments as He created each part of the world and its inhabitants, "It was good."
So, we start out as good. Interaction with this world is what "sidetracks" us and compromises the good in us that God created in us. Through belief in the sacrifice of Jesus and the power of His resurrection, any unworthiness created by our interactions with the world around us is "washed away" and we are all given the opportunity to be re-created through repentance (turning the opposite way) to live as the good, worthy child of God we were created to be.
Song Suggestion - Because He lives
~ Trish Lewis
Easter Monday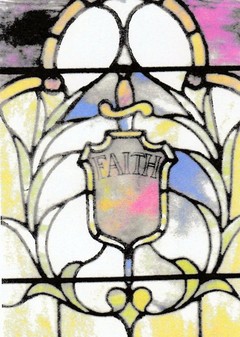 We remember the stories
of God's faithfulness:
The flood and the
promise of the rainbow.
Slavery in Egypt and the
Exodus to the promised land.
Good Friday despair and the
Easter morning resurrection.
During these uncertain times
we remember God's love and
blessings in our lives.
So, we can joyfully say from
each of us to each of you......