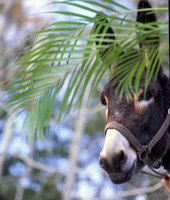 Greeting
Pastoral Prayer
The Lord's Prayer
Call to Worship: Psalm 118:1
Pastor: O give thanks to the Lord, For God is good!
People: God's steadfast love endures forever!
Unison Prayer:
Ever-present God, our celebration of Palm Sunday this year mirrors the Gospel Story. We would rather sing joyous hymns of "Hosannas", to drown out the anxiety that our world is living. On this day we remember the triumphs You have accomplished through Your Messiah, Jesus, and Your Holy Spirit within our lives: healing us, teaching us about Your presence, and Your Kingdom. Help us during this time of uncertainty to have faith in Your abiding presence that will never leave us. Show us in real ways how to navigate through the celebrations, and the heartaches or the fears that we may experience. Teach us through Your Story that we are in Your care from everlasting to everlasting, and that we can trust ourselves and our loved ones to Your Love and Grace in Jesus the Christ, Your Messiah.
Scripture Reading: Isaiah 50: 4-9a
Gospel Reading: Matthew 21: 1-11
Pastor: This is the word of God for the people of God.
People:Thanks be to God!
Message: Trusting God in Uncertainty
Benediction: Isaiah 12 [adapted]
Pastor: You will say in that day:
People: I will give thanks to You, O Lord.
Pastor: God will forgive and comfort us!
People: Surely God is our salvation; We will trust, and will not be afraid,
Pastor: For the Lord God is our strength and our might;
People: God has become our salvation.
Pastor: With joy you will draw water from the wells of salvation. And you will say in that day:
People: Give thanks to the Lord, call on God's name;
Pastor: Make known God's deeds among the nations;
People: Proclaim that God's name is exalted.
Pastor: Sing praises to the Lord, for God has done gloriously;
People: Shout aloud and sing for joy, for great in Your midst is the Holy One of Israel!