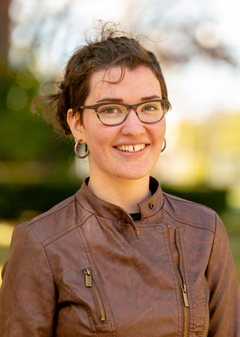 Hello!
My name is Hattie Taylor, and I am the newly appointed pastor of the Potsdam United Methodist Church.
Allow me to share a bit about myself and my call to ministry, as we share in this journey together.
A lifelong United Methodist, I was raised locally in North Bangor and attended Brushton United Methodist Church with my brother and both parents. My parents continued exploring their own calls to ministry as my brother and I aged, eventually ending in my mother becoming a licensed local pastor herself. During my senior year of High school, I began filling pulpit at a local church as well.
Despite John Wesley's conversion at Aldersgate, I do not recall a specific conversion moment myself. I remember steadily over time learning how God revealed Godself in my life, and how my thoughts around that presence changed over the years. These thoughts are still growing and changing.
After graduating from Brushton Moira Central School in 2013, I decided to attend undergrad at Houghton College. (It was a toss-up between SUNY Potsdam and Houghton) This Wesleyan college is nestled in rural Western NY. There I majored in philosophy, and minored in ministry and art, contrary to my intentions of graduating with a degree in environmental science.
During the college summer breaks, I came home and volunteered at the Franklin County Historical and Museum Society's "House of History" in Malone.
My church leadership experiences in small, rural WNY churches during college, and my interests in theology and philosophy are what led me to seminary as the next step toward my goal: ordination. This felt like a natural progression, which I found I was not willing to fight against. Perhaps it was me relying on God's timing, instead of listening to my "what if" fears.
I began attending Pittsburgh Theological Seminary in the fall of 2017, and went on to complete my Mater's of Divinity degree in May of 2020. My work-study position for all three years was serving as a docent in the "Kelso Museum of Near Eastern Archaeology". I found myself drawn to this Presbyterian seminary due to the history of academic rigor, and their hospitality!
While there were no 'majors and minors' in seminary, I enjoyed all my classes (history, theology, homiletics, spirituality) and my field education. As the "Methodist seminarian" at Saint Andrew's Episcopal Church Highland Park, I had a United Methodist mentor and an Episcopalian mentor. This field education experience helped me grow deeper appreciation for ecumenical work, for medium-sized urban churches, and for the shared history between the Methodists and Episcopalians.
My dream for my many years of ministry ahead of me is to help figure out ways in which our churches can become more transparent: where others will see the building not for the stone walls, but for its large and diverse family. For our community not only to worship with us, but to be able to use our resources for the betterment of the community.
True ministry accepts us for who we are, wherever we are, and always has a goal of loving one another.
I pray that we all may be united in love, through Christ,
-Hattie