News
THE SEASON OF LENT BEGINS WEDNESDAY, FEBRUARY 26TH
There are a number of opportunities and activities available at the Potsdam United Methodist Church during this time of reflection on our faith journey.
ASH WEDNESDAY SERVICE: Wednesday - February 26th at 6:30pm at Colton UMC.
LENTEN STUDY: Beginning February 25th, Bonnie Rice will lead "The Walk" by Adam Hamilton, on Tuesdays from 3:45 to 5:00pm at Potsdam UMC.
PALM SUNDAY SERVICE: April 5th - 11:00am at Potsdam UMC, celebrating Jesus triumphal entry into Jerusalem.
MAUNDY THURSDAY SUPPER AND SERVICE: April 9th - 6:00pm at Potsdam UMC. This is a time to celebrate the meaning of The Last Supper Jesus spent with the disciples.
GOOD FRIDAY: April 10th - Noon to 3pm, Quiet meditation in the Sanctuary at Potsdam UMC.
GOOD FRIDAY SERVICE: April 10th - 6:30 PM at Colton UMC.
EASTER SUNRISE SERVICE AND BREAKFAST: April 12th - 7:00am at Potsdam UMC.
EASTER SUNDAY SERVICE: April 12th - 11:00am at Potsdam UMC.
The Potsdam United Methodist Church, located at 26 Main Street Potsdam, is a Reconciling Church. We are an open, affirming, fully inclusive, safe church, and you are welcome here
Sunday worship is at 11:00 am. The Potsdam UMC offers numerous opportunities for mission, growth and study, and service to church and community.
Our doors are open; we invite you to come with an open heart and an open mind.
---
Mission News
Potsdam UMC mission sewers participating with the "Care Wear" program, are making receiving blankets, burp cloths and tag blankets/toys to help those in need. Fun projects and always a good feeling to give to others.
---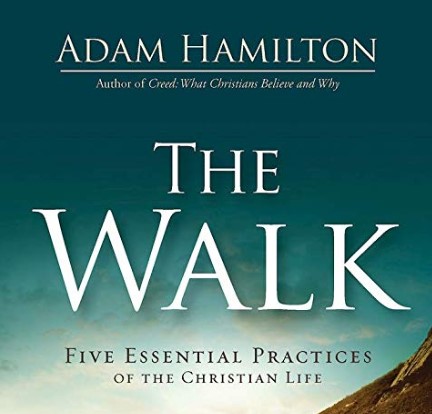 A Lenten to Easter book read and share is being offered during this Lenten Season. Please join us to read and discuss The Walk: Five Essential Practices of the Christian Life by Adam Hamilton.
Group meets: At Potsdam United Methodist Church from 3:45-5 on Tuesdays 2/25, 3/3, 3/10, 3/17, 3/24, and 3/31 finishing up before the beginning of Holy Week on Palm Sunday. Book purchase is up to those participating. Please read chapter one for the first meet. All are welcome.
Questions or to let me know you will join us? Email: Bonnie Rice using beebsrice@gmail.com (Do not use old, old email of brice@twcny.rr.com) Or you can call: 315-265-8011 to leave a message. I hope to see you.
---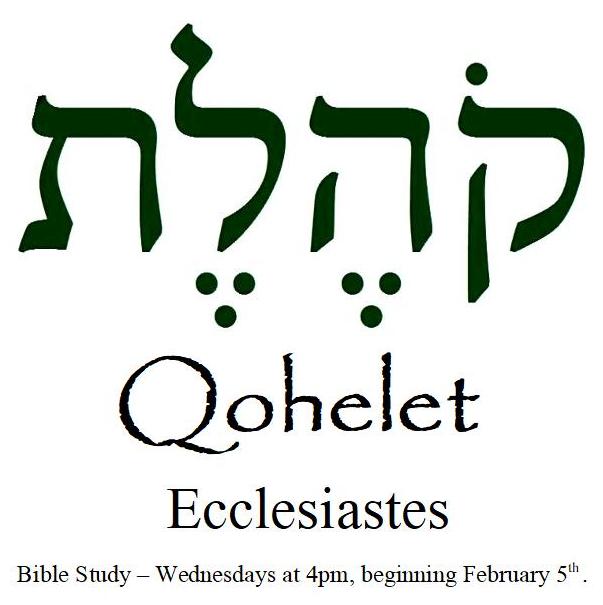 For more information, contact Rev. Sue Wenner
---
Sweet Treats For Soldiers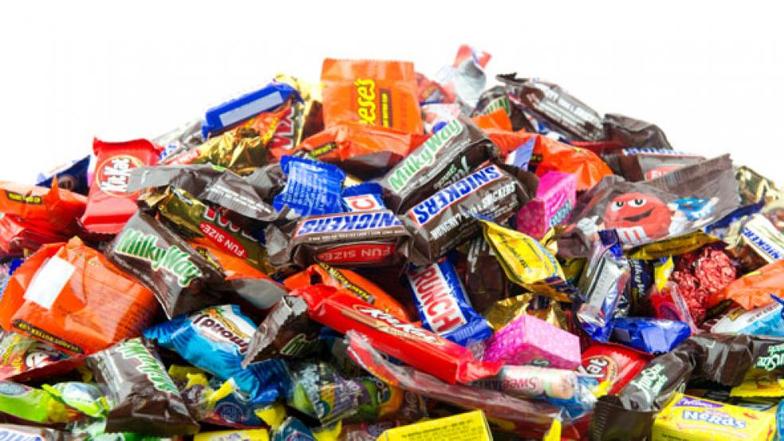 The Potsdam United Methodist Church Mission Team is collecting candy bars for Fort Drum soldiers in conjunction with the Potsdam Elks Lodge. The drive is running now through March. All candy bars collected will go to the "There When They Land" snack-bar at the Wheeler-Sack Airfield on Fort Drum.
This USO sponsored snack-bar opens when deployed soldiers return to the states. One of the first requests a returning soldier has while waiting to be reunited with family is for a candy bar. A donation box is located in Fellowship Hall of the church.
---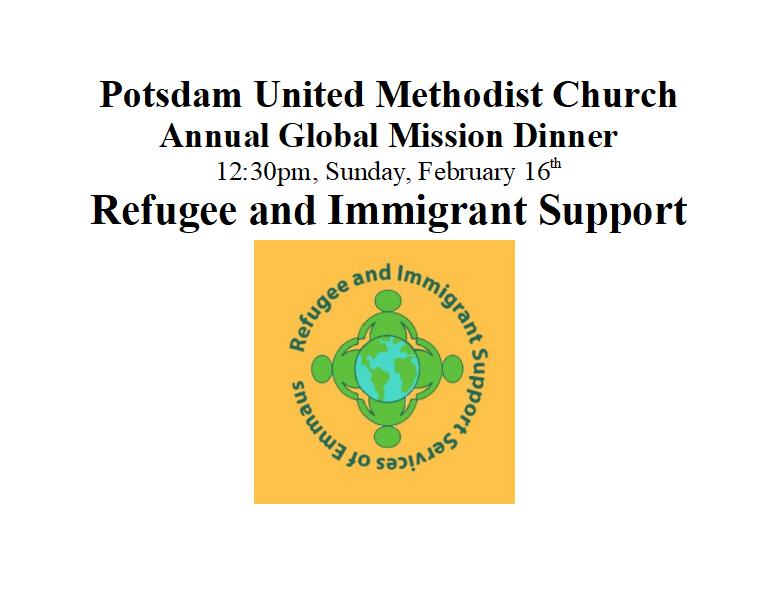 Our mission this year is RISSE (Refugee and Immigrant Support Service of Emmaus)
RISSE, located in the Pine Hills neighborhood of Albany, NY, is a family-based center that supports newcomers in building sustainable lives in the United States.
RISSE was founded in 2007 to assist refugees fleeing from the Congo. The initial goal was to help those refugees find housing, jobs, and resources and to advance their education. An after-school program was established for children; then came English as a Second Language (ESL) classes for adults.
RISSE works in partnership with the United States Committee for Refugees and Immigrants (USCRI), which services refugees and immigrants for their first 90 days in the U.S. RISSE also continues to enjoy thriving partnerships with The College of Saint Rose and Emmaus UMC.
RISSE is the only nonprofit agency in the region which provides a full range of comprehensive services under one roof (youth and adult educational programming, social supports, meals, childcare, employment placement and more) to refugee and immigrant families. RISSE's mission is to equip refugees and recent immigrants to build sustainable, independent lives by offering language and literacy instruction, as well as support with life skills and integration into the United States culture and community.
Currently, RISSE serves over 250 families each year, representing 22+ countries. Unlike other programs, RISSE provides comprehensive, culturally relevant and ongoing support to those in need. Their vision is to create a community in which refugees and immigrants are able to create lives that are safe, satisfying and sustainable.
We will donate to this mission through UMCOR (United Methodist Committee on Relief), and 100% of our donation will help support RISSE.
More information about RISSEE can be found here

---
Sunday School at The Potsdam United Methodist Church
Sunday school is offered the first Sunday of each month. Sunday School is held immediately following Children's Moment during our 11:00 am Worship Service. We offer a one room school house approach for K-5th grade.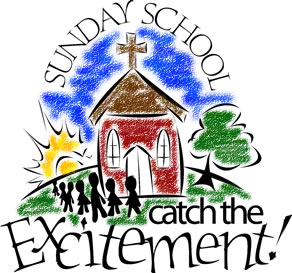 Join us as we discover the Bible.
We'll learn what it means to walk with Jesus and be of service to others.
For more information, contact the church office at 315-265-7474, Donna McDonald or Caroline Potter at 315-265-5699, cahpots@gmail.com
---
Reconciling News
November 10th was a historic day in the life of Potsdam United Methodist Church, as the congregation voted by an overwhelming 93% to affirm the Welcoming Statement that claims ALL people as God's beloved children. You are welcome here!
Announcements
In the event of a weather-related or other emergency worship service cancellation, please find information on TV Channel 7 or 5, radio stations 99.3 or NCPR or the church's Facebook page.
Reminder Bulletins for the upcoming Sunday are prepared, printed, and copied on THURSDAY MORNING. Please have items for the bulletin in the church office by WEDNESDAY at the latest
Chancel Choir and Men's Choir members needed
Upper Rooms (including large print) are available in the narthex. If possible, leave a dollar to help defray expenses, but please don't let lack of a dollar keep you from taking a copy of the magazine.
Prayer Box: There is a confidential prayer box in the prayer room at the back of the sanctuary. You may leave your prayers anonymously if you like.
The list of greeters, welcome booth hosts, and fellowship time hosts is on the bulletin board in Fellowship Hall. The sound team sign-up sheet is on the same bulletin board. We welcome new recruits in all these areas of ministry. Please call the church office at 265-7474.